Individual and community-level risk factors for women's acceptance of domestic violence in Ethiopia: Multi-level analysis from the 2011 Ethiopian Demographic and Health Survey | BMC Women's Health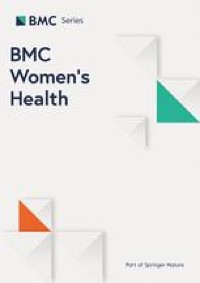 Study framework and data source
Ethiopia is the study area. Administratively, Ethiopia is divided into nine regional states: Tigray, Afar, Amhara, Oromia, Somali, Benishangul, SNNPR, Gambella, Harari and two municipal governments: Addis Ababa and Diredawa. The data source is Ethiopia's Nationally Representative Demographic and Health Survey (EDHS). The survey was a population-based cross-sectional study designed to provide estimates of population and health indicators at the national and regional levels, as well as of urban and rural residents.
Sample size and sampling procedures
Data from EDHS 2011 was used, in particular data on individual women of reproductive age. All eligible women in the 624 groups made up the study population. The sample was selected using a two-stage stratified cluster design and enumeration areas (EAs) were the sampling units for the first stage of sampling. The sampling frame was a list of all EAs established from the 2007 Population and Housing Census. The first step involved the selection of clusters. The second step involved the selection of households from the selected clusters. Following the above procedures in step one, the sample contained 624 ZD, but 28 of the clusters were not interviewed due to drought and security concerns in the Somali region. In the second step, a representative sample of 17,817 households was selected for the survey with 17,385 eligible women identified for individual interviews, and 16,515 women were interviewed. To gain interpretability of the results, those who answered do not know and had a missing answer for all the justifications were excluded. These exclusions resulted in a loss of only 149 (0.9%) women and resulted in a final sample of 16,366 for analysis.
Study variables and measures
In low-income countries, including Ethiopia, acceptance of IPV by women was measured using the Attitudes towards IPV scale, as recommended by the DHS measure [35]. Justification was measured in each survey question by assessing the response (yes / no) to five scenarios / attitude questions. Women were asked if they thought a husband would be justified in beating his wife if she: went out without telling him, neglects the children, argues with him, refuses to have sex with him, and burns food. The answers to these questions were transformed into a single dichotomous variable "Yes" or "No". Women who answered "Yes" to one or more of the questions asked and were coded as Yes (1) and women who answered "no" to all questions coded as No (0).
The independent variables were the socio-economic and demographic characteristics of the respondents (education of women, literacy, education of partner, difference in education, occupation of partner, occupation of women, owning a house, wealth index, cat already chewed, consumption alcohol, autonomy of women, marital status, family system, age of women, age at first sexual intercourse, age at first cohabitation, age of partner, number of living children, duration of cohabitation, state of pregnancy, cultural factors : ethnicity and religion); psychosocial factors (perceived existence of the law); and Community-level factors (community literacy, community poverty, community media, community residence and region of state).
Women's empowerment is measured by women's participation in household decision-making about who decides: women's health care, major household purchases, visits to family or relatives, and how men's income is used was measured in the DHS. If the woman decided jointly with her partner or by herself, she was designated as a participant in the decision-making and not otherwise. In addition, a new variable 'women's empowerment' was created assuming that participation is an indirect measure of women's empowerment and leveled into: empowered if involved in four of the decision-making, Partially empowered if it is involved in one of the decisions, two of the decisions and three of the decision, and not empowered if it is not involved in any decision.
Community-level variables were created by aggregating the characteristics of individuals within their clusters. They were calculated using the proportion of selected levels of a given variable that were affected by cluster. Since the aggregated values ​​of all the variables generated have no meaning at the individual level, they have been classified into groups based on national median values. Using this aggregation, the proportion of community factors between 0 and 50th percentiles was classified as low, and the range between 50 and 100th percentiles was classified as high. Median values ​​were used due to the non-normality of the aggregated variables. Community poverty was constructed from the bottom two first quintiles (poorest and poorest) as proportions, and distinguishing between groups with low (0-50th percentile) and high (50- 100th percentile). This procedure was also applied to create community-level factors for exposure to community media given the proportions of community members who have been exposed to a media (listening to the radio, watching TV, reading magazines or news). newspapers) and community literacy (proportion of individuals who were able to read the entire sentence among women in the specified group). The two factors not aggregated at the community level included: residence (urban and rural) and contextual region dichotomized into municipal government and state region.
statistical analyzes
Recoding of the DHS variable was designed to normalize variables that would make cross-country analysis easier and comparable. The distribution and values ​​of each variable were evaluated to detect implausible values ​​and missing data values ​​handled accordingly. Data was cleaned and analyzed using STATA software version 12.0. Data were reviewed and summarized using frequency and percentage and presented using a table and bar graph. To obtain a reliable estimate, the data were weighted to account for differences in the probability of selection and non-response. A binary mixed-effects, multistage bivariate logistic regression was used to analyze the association between explanatory variables and female acceptance of IPV. Variables with a p-value less than 0.05 in bivariate analyzes were candidates for multivariate analysis.
Mixed-effects two-level multivariate logistic regression was applied to the data to predict a binary outcome variable from a set of independent variables at the individual and community level. EDHS 2011 data has a clear multilevel structure and multilevel modeling used to allow inclusion of error terms that reflect the variation pattern introduced by the hierarchical structure of the data. Therefore, this analytical method was used to account for the hierarchical structure of the data, in which 16,366 individuals (level 1) nested in 596 community groups (level 2).
The proportions of the total variance related to factors at the community level were estimated by the intraclass correlation coefficient (ICC). The proportional variation of variance (PCV) is the percentage reduction in variance estimated in the null model due to the independent variables included in the model. The results of the fixed effects were interpreted with an adjusted odds ratio (AOR) with a 95% confidence interval (95% CI). The random effect was interpreted using CCI and PCV and compared between the progressive models by examining them.
The interaction effect was verified and there was no interaction effect ("Annex 3"). In addition, multicollinearity was also checked using variance inflation factors (VIF) and no variable had a VIF> 10 [36, 37]. The Akaike Information Criterion (AIC) was used to compare models with different sets of parameters. A model with the lowest Akaike Information Criteria (AIC) was considered the best fit model.
Data quality assurance
Standard model questionnaires have been designed and developed by the DHS program with the basic approach of collecting quality data. The questionnaires drawn up in English were translated into three main languages: Amharigna, Afan Oromo and Tigrigna. Full interviews were conducted, with a response rate of 95%.