Tariffs and foreclosures expose U.S. solar industry's vulnerability to imports, Energy News, ET EnergyWorld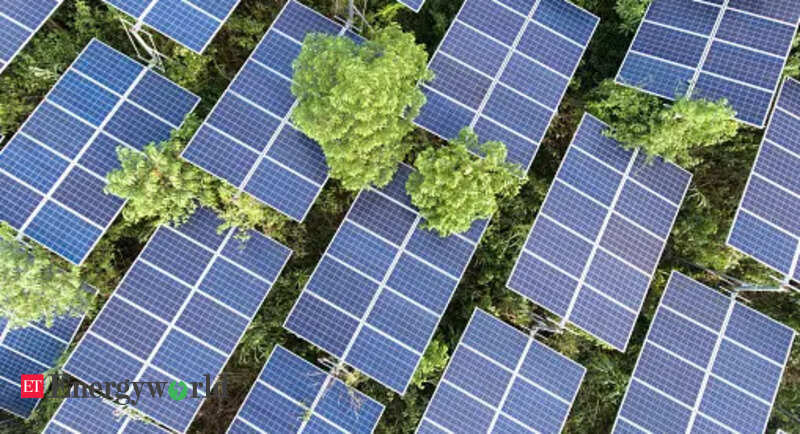 Cheap imports have fueled the spectacular growth of the US solar industry for years. Today, growing trade and transportation problems expose this dependency as a vulnerability, slowing shipments and jeopardizing large projects, according to industry representatives.
Greater availability of foreign panels could hurt the burgeoning industry and delay President Joe Biden's efforts to decarbonize the country's electricity sector, a centerpiece of his climate change plan. About 90% of U.S. solar panels are made overseas, according to the US Energy Information Administration.
Among the problems clouding the outlook for solar power is an attempt by US authorities to block shipments of panels containing components potentially derived from forced labor in China's Xinjiang region.
The Biden administration imposed an import ban targeting Chinese company Hoshine Silicon Industry Co in June and since then hundreds of megawatts of panels have been detained at the border, according to an industry source.
U.S. Customs and Border Protection do not disclose the amount of sunscreen products they have detained. China has denied that its solar components are produced through forced labor.
At the same time, a tiny domestic solar power manufacturing industry has submitted an anonymous petition calling on the U.S. Department of Commerce to impose new tariffs on certain imported panels over accusations of dumping artificially low-priced products.
The Commerce Department is expected to decide this week whether to consider the request, which would affect imports from Vietnam, Thailand and Malaysia.
If imposed, these tariffs would put 18 gigawatts of solar projects at risk by 2023 – enough to power more than 3 million homes, according to the U.S. Solar Energy Industries Association (SEIA).
The small group of domestic solar manufacturers say they remain anonymous because the disclosure of their names "could result in retaliation against these companies and cause substantial damage." Tim Brightbill, the group's attorney, said the trade group's claims were "grossly overestimated".
U.S. solar developers, however, say suppliers in Southeast Asia have already slashed sales in the United States over fears their panels could be hit with retroactive levies if the Commerce Department proceeds.
SUPPLY PRESSURE
Marine shipments of solar modules to the United States were already down 11% in August from 2020, and down 2% for about the first three weeks of September, according to data from financial information provider S&P. Global.
"We are currently being hit hard," Markus Wilhelm, managing director of solar developer Strata Solar, said during a press call organized by SEIA on Monday. "We are completely dependent on a global supply chain, so we are a little more vulnerable."
"We cannot get module makers today to sign the purchase orders that we need to deliver short-term projects," said George Hershman, president of solar contractor Swinerton Renewable Energy, at the 'call.
The problems worsen a global supply squeeze resulting from the coronavirus pandemic that has already hit other industries with increasing costs and delays, affecting everything from bicycle sales to the availability of smartphones.
The U.S. solar industry said earlier this month that its facilities were operating at an all-time high despite shipping bottlenecks and rising costs, but the new threats increased the risk of a future downturn.
The main developer of renewable energies, Nextera Energy Inc, has led the fight against the new obligations in the context of numerous files filed with the Commerce Department, with the support of EDF Renewables Inc, Clearway, Invenergy and Enel Green Power.
In addition to the immediate threat of new duties, the United States International Trade Commission will decide by the end of this year to extend the tariffs imposed by the Trump administration in 2018 on all panels manufactured abroad. .
Five domestic producers requested the extension, including the US branches of Korean companies Hanwha Q CELLS and LG Electronics.
One of the world's largest panel manufacturers, JinkoSolar, has been caught in the crosshairs of border seizures and the potential for new tariffs.
The company said earlier this month that some of its solar panels were stopped at the border by US customs. The company is also among Chinese companies targeted by domestic petitioners seeking new tariffs.
Roth Capital Partners analyst Philip Shen lowered his price target on the JinkoSolar share to $ 51 from $ 58 on September 16, citing the "one-two punch."
JinkoSolar did not respond to a request for comment. (Reporting by Nichola Groom; Editing by Aurora Ellis)