TeleCare, through Britain's Barnstable Brown Diabetes Clinic, is helping patients thrive during the ongoing pandemic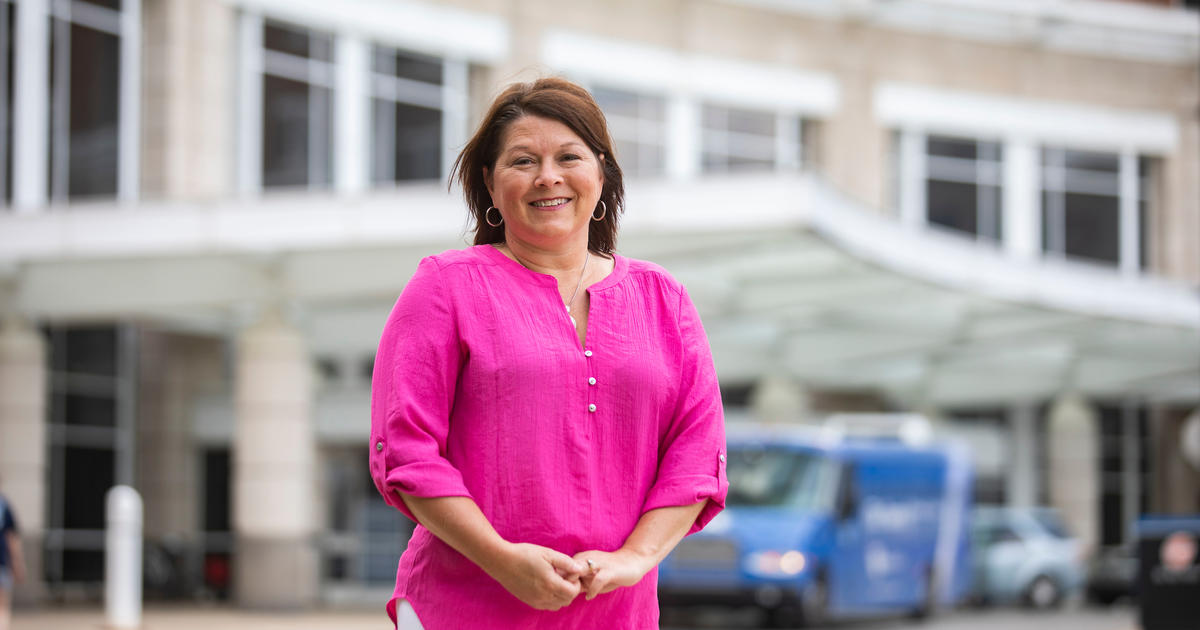 LEXINGTON, Ky. (June 26, 2020) – Jill Blake's diabetes journey began when she was 11 years old.
"It was 1982," she said. "I was in 7th grade and starting to experience all of the classic signs and symptoms of type 1 diabetes."
At the time, she says, the disease was unknown in her small hometown, hidden in the hills of southeast Kentucky. She recalls that very few people in Middlesboro knew about it, and she had no one in her family with diabetes. For Blake and her family, it was a time with many "strangers".
"The diagnosis was very unexpected," she said.
38 years later by Spring 2020, and Blake started reliving some of those feelings. "When the pandemic started, I felt very uncomfortable about the virus and all of the 'unknowns,' especially those with chronic illnesses like me," she said.
Blake has successfully treated her diabetes since she was diagnosed at a young age. She attributes part of this success to the comprehensive education about the disease. That continued when she moved to Lexington with her husband in 1993.
"I immediately went to an endocrinologist at UK HealthCare who could continue to help me manage my diabetes," she said.
Not only did she seek care at UK HealthCare, but she also became an employee, which marked the beginning of her career in nursing, which continues to this day as Manager of Nursing Excellence / Magnet Program Director. She recalls when UK HealthCare's Barnstable Brown Diabetes Center opened.
"I was delighted not only for myself but also for the Commonwealth of Kentucky," she said. "We now have a place where people with diabetes can meet all of their diabetes management needs at the same time. People with newly diagnosed diabetes – or those who, like me, have had it for nearly 40 years – can work with doctors, nurses, dietitians, and others. "
Amid the ongoing global pandemic, UK HealthCare's Barnstable Brown Diabetes Center have ensured that the use of TeleCare continues to guarantee first-class support and education.
"Health does not take time out in stressful times, even in a pandemic," says a certified diabetes specialist Sheri Setser Legg. "Our patients need to feel that they are still responsible for their health, especially at a time when our world is a little out of control."
Blake is very grateful for this technology as it was upgraded to a new insulin pump, just as COVID-19 was changing the world as we knew it. "I knew I needed TeleCare to get the help and support from my diabetes team," she said.
Blake was able to meet virtually with Setser-Legg to set up the new pump and learn how to manage the new settings. They also met several times to discuss the transition to the new pump.
"By being able to see each other on the screen, we can interact in person and she can point to items in her pump demo," Blake said.
Setser-Legg says she certainly had some concerns initially with TeleCare.
"Since I was technologically challenged at times myself, I feared that maneuvering would be too strenuous for the patients," she said. "However, I have found that patients with little guidance can use the system with minimal difficulty."
She says Blake's situation is a perfect example of how effective the technology can be. "Although insulin pumps and sensors are very involved, we were able to run these sessions pretty seamlessly," she said. "Jill actually uploaded her pump and sensor data to the web-based program. I accessed the data and we were able to go through this information step by step. "
Like many others, Blake works remotely as her position at UK HealthCare is not clinical. She says it was a blessing, but it can also isolate – something TeleCare helps with too.
"Using TeleCare appointments gives me, and certainly others, the ability to continue to interact with our health teams so we don't feel alone in our care," she said.
Dr. Derick Adams, a state-certified endocrinologist who has been visiting Blake for several years, says TeleCare has been critical to all of his patients over the past few months.
"The most important part of diabetes management is patient education, especially with new technologies like continuous glucose monitoring and insulin pumps," he said. "It is a testament to the training team and staff at Barnstable Brown Diabetes Center that they have found a way to provide quality diabetes education through TeleCare."
In addition to providing interactions while keeping patients safe, TeleCare has a number of positive effects.
"Many of our patients live far away," says Setser-Legg. "This is such a convenient way to get an apprenticeship without a long journey. Patients have to take less time away from work and home, which is a great benefit for them and their families. "
Adams says that it actually allows him to see patients more often than he normally would.
"Patients no longer have to walk long distances or take a full day off to visit," said Adams. "Most importantly, TeleCare has helped deliver care while minimizing the spread of COVID-19 in Kentucky."